Holy Cross Parents Association
---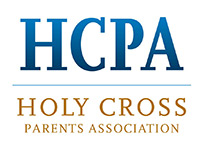 The Holy Cross Parents Association (HCPA) is a partnership of parents and teachers working together to benefit all
HCA students. It also functions as a community-building organization, coordinating social events to bring all HCA parents together on a regular basis.
Some ongoing programs include:
Teacher/Staff appreciation events
Themed Family Activity Nights
We will continue other favorite activities such as: Trunk or Treat, Santa's Workshop, the Father/Daughter Dance and the Mother/Son Dance.
We welcome and invite all parents to get involved in our community and support our students through the HCPA. Please consider attending a general meeting to better familiarize yourself with our school, meet other parents, volunteer for a committee or just learn something new about child development.