Holy Cross Academy Pastors
---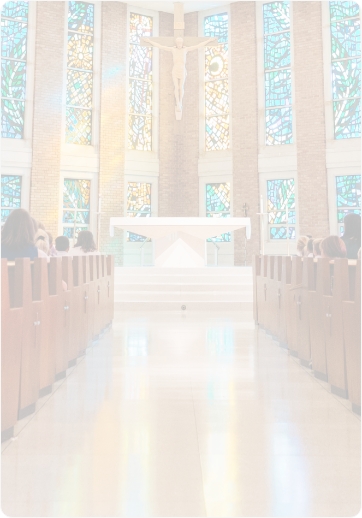 We adore You, O Christ,



and we praise You,





because by Your Holy Cross



You have redeemed the world.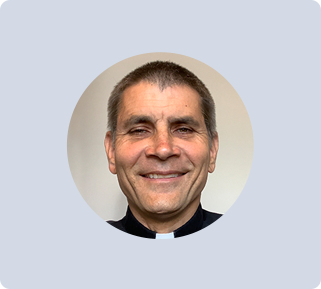 Rev. Michael Esswein
Annunciation Catholic Church
Webster Groves
Father Michael Esswein
Designated Pastor - Office of the President
Pastor - Annunciation Catholic Church
Webster Groves
Father Michael Esswein, aka Father Mike, felt the Holy Spirit pulling and nudging him into the priesthood as early as Kindergarten. Growing up and knowing a number of older relatives who were priests and religious sisters, he thought the religious life was nothing unusual. In fact, there were many times these relatives impressed him as living lives that were pretty cool. In a second grade play at St. Stephen Protomartyr in South St. Louis, he starred as the priest and was once sold on the idea of growing up to become a priest.
Through seminary, discerning how he wanted to serve God, he pictured himself serving as a diocesan priest and the people of the Church. An automobile accident during his senior year of college left him paralyzed. The first thought he had after the accident when he realized he was paralyzed was whether or not he could still be a priest. He and the Church discovered that it was possible and he was ordained with his class five years later in 1998.
A typical "Father Mike" day entails rising at 5:30 a.m. praying and preparing for 8 a.m. Mass. When Holy Cross Academy is in session, he spends time with the students and may meet with school administrators and the priests of the other Holy Cross parishes. He often joins the students in the cafeteria for lunch and sees them off at dismissal.
As Designated Pastor of Holy Cross Academy, Father Mike works to ensure the success of the school through working with the other pastors, the administration, the teachers, the board and the archdiocese. As Pastor of Annunciation Parish, he visits parishioners in the hospital and prepares parishioners for weddings and funerals. Evenings include being with the students of PSR on Wednesdays and meetings with the parish council, the finance committee or one of the numerous parish and Holy Cross Academy volunteer and social organizations.
Father Mike most enjoys being with people and feels blessed to become a part of many families during good and bad times. He also counts his blessings for a strong family, growing up in South City as one of seven children who were close as youngsters and remain so today. In his rare free time, he enjoys family dinners on Sunday evening.
Ordained in 1998, Fr. Mike's first assignment was associate pastor at St. Clare of Assisi in Ellisville. From 2005 to mid-June 2015 he served as associate pastor at St. Peter in Kirkwood. He has served as pastor at Annunciation since June 2015.
Father Esswein can be contacted at:
frmikeesswein@goannunciation.com or
314-962-5955 Ext. 133
×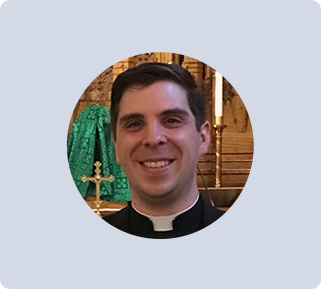 Rev. Michael Grosch
Saint Michael the Archangel
Shrewsbury
Father Michael Grosch
Pastor - Saint Michael the Archangel
Shrewsbury
Ordained to the priesthood in 2011, Fr. Grosch has served as associate pastor at All Saints Parish in St. Peters, Sacred Heart Parish in Valley Park, and Ascension Parish in Chesterfield. In 2017, he was assigned as the parochial administrator of St. Michael the Archangel Parish in Shrewsbury.
Father Grosch can be contacted at:
mgrosch@stmike.org or
314-647-4111
×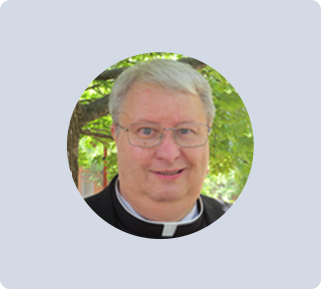 Rev. Rick Schilli
Our Lady of Providence
Crestwood
Father Rick Schilli
Pastor - Our Lady of Providence
Crestwood
Ordained in 1977, Father Rick spent the first twenty-five years of his priestly ministry in Catholic Education as chaplain and teacher at St. Thomas Aquinas High School in Florissant, MO and at Bishop Du Bourg High School in St. Louis. During those years he resided at several parishes in Florissant and in south county. In 2002 he was appointed pastor of Saint John and James parish in Ferguson until its merger into Blessed Teresa of Calcutta Parish. In 2005, he was appointed pastor of St. Mary Magdelen parish in St. Louis and in 2008, was appointed pastor of Most Sacred Heart parish in Eureka. Father Rick became pastor of Our Lady of Providence in June 2016.
Father Schilli can be contacted at:
rschilli@olpstl.org or
314-843-3570 Ext. 13
×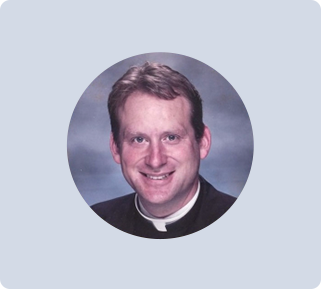 Rev. Chris Holtmann
Saint John Paul II
Affton
Father Chris Holtmann
Pastor - Saint John Paul II
Affton
Hello, my name is Fr. Chris Holtmann (aka Fr. Chris). I was ordained in 2000 so that I could better remember how long I have been a priest. Some fun facts about me. I grew up in Our Lady of Sorrows and went to Bishop DuBourg. Yes, I actually walked to school through the rain and snow. I originally got my degree in Mechanical Engineering at Rolla. At times throughout my life I felt God calling me. I felt the profound sense of how much God loved me unconditionally. When I finally got close to graduating from Rolla, I thought and prayed long and hard as to what I really wanted to do with my life. I wanted to bring people closer to God. I wanted to do that directly in my life's work. Figuratively, the hound of heaven caught up to me (btw it's a golden retriever). That led me to the seminary. It's been 20 years and it's been good and bad at times, but one thing is for certain, I love God and I love what I do. When I was assigned to St. John Paul II, I was glad to hear that we had a school, a unique school, a school built for now and for the future. I feel fortunate to be a part of this school with the other parishes and priests. I believe in Catholic education. Most of all, I believe in Catholic formation, something that only Catholic schools can offer. We need schools that teach that there is a God, and most importantly, that God loves them and that they are called to be a part of this mission of spreading God's love. At Holy Cross, I look forward to being a part of this mission with you and I look forward to working with you and your children.
God bless,
Fr. Chris
×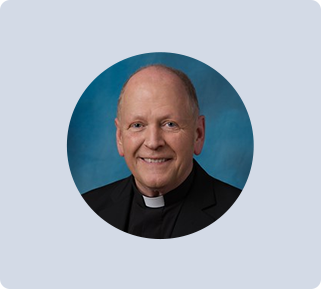 Rev. John Brennell
Seven Holy Founders
Affton
Monsignor John Brennell
Pastor - Seven Holy Founders
Affton
Father John, as he prefers to be called, was ordained in 1978. He served as a deacon at Ascension in Chesterfield, and as an associate pastor at Our Lady of Mercy, Transfiguration, St. Patrick in Wentzville and St. Stephen Protomartyr. He was Priest Personnel Director for five years. He served almost 10 years as pastor of St. Peter in Kirkwood, for almost eight years at St. Joseph in Imperial and for three years at St. Monica in Creve Coeur. He has served as pastor of Seven Holy Founders since mid-June 2015.
Father Brennell can be contacted at:
jbrennell@foundersaffton.org or
314-638-3938
×
Now Enrolling
Interested in learning more about our school?
Request a Visit